Archive for the 'Spouse Stuff' Category
September 2nd, 2008 categories: Real Estate News, Spouse Stuff
Well, our holiday is over, and it's time to get back to work.  Ignore the fact that most us are employed 12 months out of the year.  But, Labor Day's goodbye isn't the only indication that the school year's about to begin.  In case you've forgotten, we'll be seeing those large yellow buses competing for road space as well!
Seems that as long as I can remember, the yellow school bus has been the primary means for most students to get to and from school each day.   But, do you ever wonder where the yellow came from?
While the challenge of transporting students to school has been around as long as schools have, bus transport became popular in the early 1900s.  Most of the early transport was required in order to pick up students who lived in rural areas where walking to school, due to the distance to school, was simply impractical.  Development of the modern school bus took off in the 1930s and led to the design of those used today.  National school bus construction standards were established at a 1939 conference led by Dr. Frank W. Cyr, of the Teachers College at Columbia University.   Originally labeled as National School Bus Chrome, the color chosen for school buses later became known as National School Bus Glossy Yellow.   Yellow was the chosen color because black lettering on the color was easiest to see in the early morning hours when buses where on the road.
The sight of the yellow school bus reminds us that its time to get back to work, specifically for students and those that teach them.  It also reminds me how important it is to get and on the road a bit earlier in the morning.  While I may appreciate the purpose of the yellow school bus, I'll avoid them if at all possible.  Fortunately, Stafford County publishes its bus routes.  In Northern Virginia, traffic congestion is a challenge in and of itself, when school isn't in session.  Can you imagine what it is like when the buses are rolling?  
Spoken by Jim Rake | Discussion: No Comments »
June 9th, 2008 categories: Entertainment, Military Installations, Relocating, Spouse Stuff
Road expansion is something most of us can't get enough of in Northern Virginia.  For those travelling North or South, Interstate 95, or Route 1 (Jefferson Davis Highway) are the only direct corridors available for vehicles heading toward a destination.  While we applaud the road widening, the new development also resulted in some casualties along the way.  When the Virginia Department of Transportation (VDOT) decided to widen Route 1 in Prince William County, just north of Quantico, the Globe & Laurel restaurant found itself on the chopping block. 
In business for nearly 40 years, it now found itself out in the cold.  The Globe & Laurel closed its doors on April 30th.    For the second time, its owners, former Marine Major Rick Spooner & his wife Gloria, had to find a new home.  Their first such venture occurred after the original Globe & Laurel, which opened in 1968, located in Quantico Town, burned down.    After attempting unsuccessfully to find another location in Prince William county to begin again, the Spooner's were able to find some help a little further South along Route 1, in Stafford County.    With the assistance of Stafford's Economic Development Authority, they were able to secure the building that formerly housed The Keep, and then Philly's, both restaurants, similar to The Globe & Laurel.  With loads of renvoations needed, Stafford's EDA pitched in both short term and longer term contributions, the former being $50,000, the latter $33,000 per year for the next three years.
In the food business, one's reputation is priceless.  Do a google search for the The Globe & Laurel, and see what you find.  What you'll find is visitor after visitor, patron after patron, that can't say enough about the food, the atmosphere, and the great hosts it has.  It truly is a unique establishment.  Beginning with the tartan carpet, you'll find a familiar pub like interior design, a distinctive selection of wines, and the a local favorite brew, Leatherneck Lager.  While the atmosphere sets it apart from the everyday eatery, Maj Spooner has never wavered from his desire to provide his patrons more than just a meal.  He wants them to leave not only well fed, but also well cared for.   The service is second to none with the Spooners leading by example as they greet those heading in to dine.  Often , you'll find the Major making his way around the restaurant, ensuring those already dining are enjoying themselves.  
The Globe & Laurel is a rare find.  While you'll enjoy the food & drink, you'll take away much more after a visit.  If you're lucky, you'll have a chance to chat with the Spooners, especially the old Marine who has already shown that it takes more than the government to keep him down.  As Yogi likes to remind us, "It ain't over til it's over."  And, for Major Spooner, this new venture probably seems more like, "deja vu all over again!" 
Spoken by Jim Rake | Discussion: No Comments »
May 28th, 2008 categories: Market Trends, Real Estate News, Relocating, Spouse Stuff
Purchasers, any purchases for that matter, are often done with one thing in mind.  Specifically, possession of the object being bought.  In simple terms, we found something we like, something we want to possess, and "having it" is a MUST.  But, what about the cost, or the long term value of what is probably our most expensive asset, our home?   Is it important to consider what its value might be, three, five, or ten years down the road?   Similar to Wall Street's most successful investors, is buying for the long term, or at least taking a value based approach, a recipe for success when it comes time to sell?
In one of the 1990's best selling books on leadership, The Seven Habits of Highly Effective People, Steven Covey outlines key principals of personal development that lead to success in our personal and professional lives.  One of his Seven Habits, the second, emphasizes the importance of "beginning with the end in mind" when making choices in life.   Simply put, this means working backward from where you want to end up and making choices that will get you there.   So, as a home buyer, what does that mean?  How can you benefit from Covey's advice?
For many home buyers, especially those in Northern Virginia, relocation is a way of life.  Many are Department of Defense (DoD) employees, or employed with contractors doing work with the federal government.  Moving and selling homes are something that oftentimes comes much too soon.  But, even in a buyer's market, forethought and considering an exit strategy or end game when making the purchase, can make the goodbye a few years later much easier to handle financially, and more importantly, emotionally.
One of the most important questions to consider when purchasing a home is, "What would prevent buyers from wanting to live in this home?"  While that consideration may seem to be apparent, believe it or not, it is often more of afterthought.   Instead, we concentrate on the positives, and minimize the drawbacks of the property.  But that's purely part of human nature, don't you think?  Clearly, the attractive features are important and shouldn't be minimized.  But, it's wise to consider the drawbacks, especially those that might be deal breakers.
What sort of drawbacks are we talking about?  What might prevent prospective buyers from choosing other homes instead of yours?
Location – there's lots to consider here.  The obvious is proximity from schools, shopping, and other area attractions.  Is the property hard to get to?  How about traffic patterns?  Is it located on a street where there's a high traffic volume?  Does the traffic make it difficult to get in and out of the driveway? 
What about the particular lot.  Is it level?  And, if not, does it matter.  How steep is the driveway?  As one blogger mentioned on their site about the a driveway concern, "Basically the only thing that is keeping us from signing the purchase and sale (which we have to do some time today) is our ambivalence about the driveway – the one thing we really can't fix."  Where does the water concentrate or run off to when it rains?  Does it drain away from the house or towards the house causing excessive wetness next to the house?    These are questions that need to be considered before purchasing any property.
What about the basement.  Is it a walk-up, or preferably, a walk-out?  You can bet that most buyers prefer an outside entrance/exit to the basement.  With walk-outs, the additional outside light these provide are another attraction.
Room sizes.  While we don't expect the normal home to provide us the extravagance of a luxury home, the homebuilding trend has been one of a bit more room in both the kitchen and the bathrooms, especially the Master bathroom .  Remember, you can always upgrade what's there, but it's much more difficult to make rooms larger once the home is already built.   That goes for the bedrooms as well.     
Subdivision amenities/fees.  While all homes aren't necessarily in a subdivision, or part of a Home Owners Association (HOA), when they are, they can be an important attraction, or, at times the reason for hesitation by the buyer.  Some of the attractive features include swimming pool, bike/walking trails, sidewalks, and a community clubhouse, among others.  For some, this package of community features is enough to tip the balance when two homes are competing for a buyer.  On the other hand,  HOA fees and restrictions can be the deciding factor between two competing properties.  If fees are too high, and restictions too onerous, buyers can turn to many other appealing choices.  Most of us just don't need the expense and headaches. 
There are many important issues home buyers consider in their search for a place to call home.  While each of us tends to focus on the attractive home features, we need to consider the flip side of the equation as well.  What are the drawbacks?  Home buyers, at some point, become home sellers.  The last thing you want to thinking when it comes time to sell  is, "shoulda, woulda, coulda."  As a buyer, use some forsight and ask the critical, discriminating questions before you buy.  While a home's "bells and whistles" can be awfully attractive, make sure you notice the blemishes as well.  It'll sure help when it gets to the end game and its time to pack up for another assignment.       
Spoken by Jim Rake | Discussion: No Comments »
May 27th, 2008 categories: Repairs, Spouse Stuff
With summer already here, have you done the prep work necessary for the upcoming heat and humidity?  If you're like me, probably not yet, but, it's certainly on the "to do" list.   Preparing your home for the warmer temperatures is not only practical, but can save you a few dollars along the way.
Take a look at your cooling system.  Make sure your air filters are changed.  While its recommended that this be done monthly, if you haven't done so, do it now. 
Test your air conditioner.  Before temperatures get too hot, make sure your unit is working properly.  Test the system by turning it down to activate the air conditioner.  If it doesn't come on, check for tripped circuit breakers first.  If you can't identify the problem, call an air conditioning repairman.  While no one likes repair bills, catching the problem early is certainly better than facing the same problem in the middle of a heat wave.
This is also a good time to check insulation and seals.  Is your attic insulation still in good shape or has it compacted and is not quite as robust as it once was.  Take the time to see if you might need to use some additional insulation.   Also, seals around windows and doors also need to be checked for inegrity.  How many of us have felt that cold air seeping in through a door or window during a frigid winter night?  Well, that seepage doesn't stop with warmer temperatures.  So, reseal where needed.
On the outside of the home, if you haven't already, it's a good time to get your deck into shape.  Sweep and remove all the debris.  Next, power wash, or if you prefer, hand scrub the deck to remove stains & mildew.  After washing, seal the deck using a water based sealant, preferably a waterproofing sealant, with UV protection against the sun.   
Preparing a home for warmer temperatures makes the heat of the summer season a bit easier to handle.  Taking a few preventative steps to ensure the air conditioning "moving parts" are ready to go will give you peace of mind as those tempertatures begin to climb with the advance of summer.  Doing a little clean up to the outside of the house yields similar dividends.  So, take the time during the last few days of May to prepare for the long hot summer – it'll pay off in more ways than one.  
Spoken by Jim Rake | Discussion: No Comments »
May 23rd, 2008 categories: Entertainment, Military Installations, Spouse Stuff
After years of learning more lessons than I care to mention, avoiding the Interstate, any Interstate, on holidays is one thing I've been pretty successful at the past few years.  So, this Memorial Day weekend, I'll more than likely spend a few hours just next door at Quantico, enjoying the many activities taking place at The National Museum of the Marine Corps.
 The abundance of activities taking place include childen's workshops, new displays in the Global War on terrorism gallery, a "how to" session with a Marine Corps Combat artist, a performance from a local fife and drum corps, and much more.  The Museum, which opened in November, 2006, is not only a wealth of information on the history of the Marine Corps, bit it's lots of fun too, with many indoor and outdoor activities and sites.  Whether it's a walk accompanied by a National Park Service ranger discussing the history of the USMC Heritage Center site, or time for the teens to enjoy a Physical fitness Training (PT) session at the Playground with Marines, trying to see everything in a day is a chore. 
So, if you're like me and you'd rather celebrate this Memorial Day a bit closer to home, take a few minutes to stop by and enjoy the Memorial, or just to say "thanks for your sacrifice."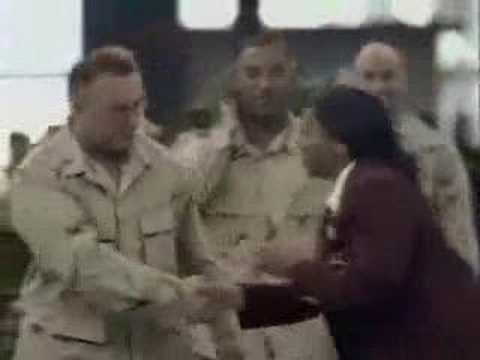 Spoken by Jim Rake | Discussion: No Comments »
April 16th, 2008 categories: Relocating, Spouse Stuff
 Do we like to do anything sight unseen?  How about that first blind date – was it what you expected? 
Many of today's military and DoD personnel stationed overseas, unable to make that advanced house hunting trip back to the U.S. prior to their move, are faced with a  situation not unlike the blind date.  But, fortunately, with the new media and good old modern technology, the "unknowns" can be minimized, and almost eliminated when choosing their next home.  I was reminded of this when answering an e-mail request last week from a client PCSing from Okinawa, Japan.
The secret to satisfaction in purchasing a home is no secret at all.  Like just about anything else, it's always best to follow a methodical or sensible plan.   While much has been written about the best methods to purchase a home, like many checklists, there is no perfect method or number of steps, other than as many as it takes to achieve your objective.  Having said that, we recommend a 10 step approach when home buying, whether trying it from abroad, or with your feet on the ground, and an ability to actually look at what you are purchasing.
Selecting a Realtor
This first step is THE most important.  Why?  Because your Realtor is your eyes and ears, not to mention, the one directing your entire transaction.  Their knowledge of the market, the neighborhoods, the agencies and personnel involved in the transaction, is something you're betting on.  It goes without saying that you need to find someone you're comfortable with, because you'll be sitting right next to them the entire way.  More importantly, they will be acting on your behalf.  Great integrity and judgement are two "must haves" for any successful Realtor.   Once you've selected someone you feel comfortable with, make sure you've agreed for them to be your Buyer's Agent.  This Buyer Broker Agreement, signed by both of you, designates the agent as working strictly for the buyer.  In many states, agents work for the seller, unless agreed in writing, to represent the buyer exclusively.    
But, the advocacy of the agent is even more important for the buyer coming from abroad.  Absent the ability to have feet on the ground, it is essential to have an advocate, and one who is area expert, when it comes to neighborhoods, schools, shopping, commuting options (for many, the long pole in the tent in Northen Virginia) - all those things that interest and concern buyers.  Of course, with the luxury of the web, agents are able to provide clients with a continual e-mail feed of homes that match the buyer's home criteria.  This convenience is one that potential buyers should take full advantage of in order to familiarize themselves with more than just available homes, but also typical prices, neighborhoods, and other area specifics.  While the next home buying step can be done first, buyers lose the advantage of their realtor's input if they do.  When it comes to the buyer's choice of a lender, your agent ususally knows some of the best local lenders in the business. 
     2.   Selecting a Lender (Getting that pre-approval letter)
This particular step has taken on new meaning since the recent, and on-going, mortagage/credit crisis.  Who you use as a lender is important.  Much of the blame for the mortagage/loan problems we've seen over the past few years is a direct result of poor lending practices.   While many of us have used the same national lenders we're familiar with like USAA, Navy Federal, Wells Fargo, Bank of America, and others, oftentimes, your best bet may be a local lender who knows the area market, who you can actually chat with face to face.   Since agents are familair with many of the best professionals their region has to offer, they can also be a good source for recommendations.  And, you'll need to get than pre-approval letter from your lender.  This shows you're financially qualified to purchase the home, which, of course, is of primary concern to the seller.  Securing this piece of paper is important.
    3.  Meeting With Your Agent for a Home Buyer's Consultation
Although this normally takes place in the agent's office, this is the meeting where expectations are discussed.  This is when you and your agent prepare each other for what's going to occur along the way.  The following points, among others, should be covered and fully understood during the meeting:
Exactly what the buyer's needs are (#of bedrooms, baths, , etc.).   Anything you might want in a home, to include the type or size of lot or yard should be identified.  This includes what price range you're comfortable with, and what your time line is.  It generally takes about 30-45 days from purchase (this means a ratified contract) to closing or settlement.
How often you are available to look and what you expect from your agent in terms of availability and communication.  This includes what, and how often you wanted to be updated.
Your agent should give you copies of all the paperwork you are expected to sign throughout the process and briefly explain what each form is for.
Your agent should explain buyer brokerage vs. seller's representattion, and you should sign a buyer broker agreement.
During Step 4, we'll begin to look at homes…    
Spoken by Jim Rake | Discussion: 1 Comment »